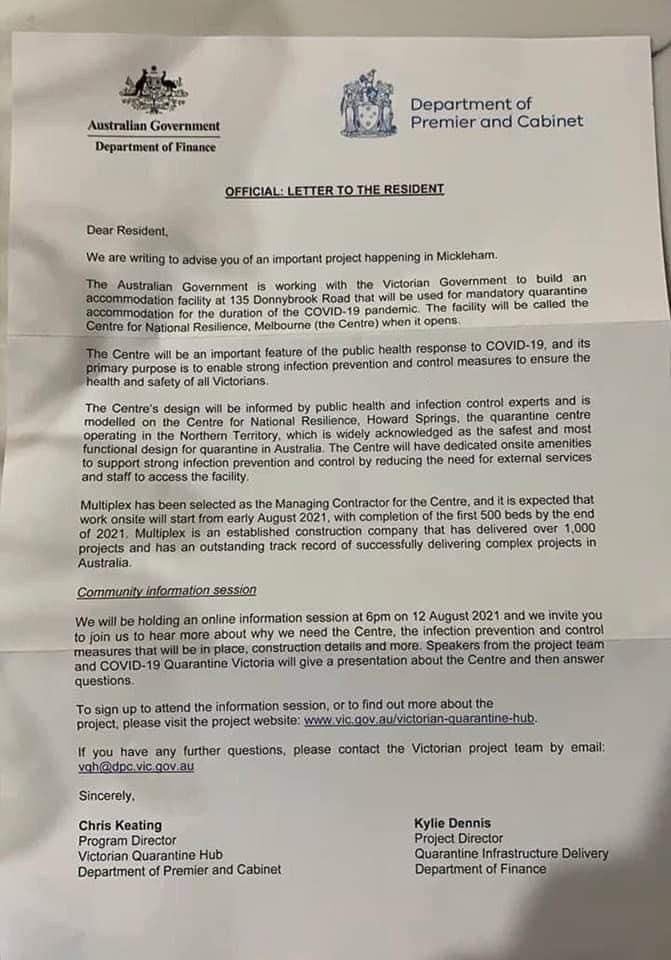 With quarantine continuing to be a critical part of the Australian response to the COVID-19 pandemic, the Victorian and Australian Governments have committed to building a purpose-built quarantine accommodation hub outside Melbourne's CBD, to combat and protect the community from the highly infectious COVID-19 virus.

This commitment followed the development of a business case by the Victorian Government, which was submitted to the Australian Government for approval. A project summary of this business case can be found at www.vic.gov.au/sites/default/files/2021-04/Alternative-quarantine-accommodation-hub-project-summary-April-2021.pdf

The business case identified a preferred site at Donnybrook Road, Mickleham – at the site of the existing animal quarantine facility, owned by the Australian Department of Agriculture. On 24 June 2021, the Australian Government confirmed that this will be the site of the new facility.

COVID-19 quarantine is an important feature of our public health response to COVID-19, and this new purpose-built hub will be designed and built with the primary purpose of ensuring the safety of our community.

The design of the new hub is fully informed by experts in public health and infection control and is based on the existing standalone facility currently operating at Howard Springs. With its cabin-style outdoor accommodation, Howard Springs has been widely acknowledged as the safest and most functional design for quarantine in Australia.

The master plan for the new hub includes dedicated onsite services, including catering that is tailored to be delivered alongside strong infection control and prevention measures. The first stage of the hub will provide 500 beds, with a second stage doubling capacity a short time later. It is also designed with the ability to increase to up to 3000 beds as part of a scalable build if a larger facility is determined to be required at any point.

The new hub will also be designed with relocatable cabins so that it can be utilised for alternative and future needs, including ongoing quarantine arrangements, crisis accommodation and other emergencies.